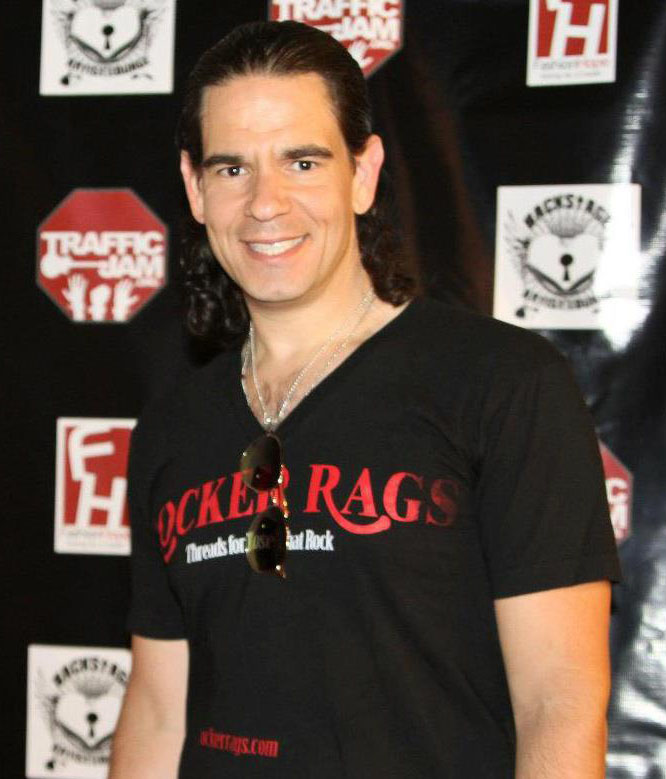 Built around a passion for both Rock 'N Roll and fashion/apparel, Rocker Rags is focused on becoming your only destination for the BEST selection of popular Rock and music inspired t-shirts and apparel either online, in a regular "brick and mortar" store, or, well, really just about anywhere. My name is Lando, and I'm the founder of Rocker Rags (that's me in the photo above).
My story and how I created this whole thing is I started listening to Rock at a very young age, during the mid-late 1970s when my mother would play the radio regularly in the car and at home. When I was a little older, I started sporting t-shirts of my favorite artists and bands. Since then, I have gone to countless concerts of artists as varied as the Beach Boys and Herman's Hermits to Rush and Yes to Moby and Thievery Corporation. I even worked in the concert industry for 3 years before launching out on my own as a music producer, creating the famous online radio station, Ultimate-80s. Whether it's on the harder or softer side, whether it's dancy or chill, whether it incorporates elements of electronic Techno or Hip Hop is irrelevant, because, as Billy Joel so aptly put it, it's all Rock 'N Roll to me, and that's what we love and live every day here at Rocker Rags. If you stop by our Los Angeles based offices, you'll hear everything from P.O.D., Saliva, Alice in Chains, Stone Temple Pilots, and Jane's Addiction to New Order, Devo, Talking Heads and Oingo Boingo in addition to Neil Young, Steely Dan, Seals and Crofts, and Gordon Lightfoot, plus EVERYTHING in between.
But, while Rock music is an essential ingredient to us here, YOU, the customer - you're even more important. That's why we keep our prices low and offer features like free shipping to US and APO addresses. Hopefully you've had a chance to glance around our site and you like the selection that we offer. We definitely hope you'll come back and hang on our site again and maybe check us out and LIKE us on Facebook, FOLLOW us on Twitter, and glance at our blogs on Tumblr. We're constantly getting new stuff in, so that's always a good reason to come by. And this isn't just one sided - we want to hear from you too. If there's a product or artist you want us to carry, if you want to give us a review or comment on something you got from us, or if you want to keep us up to date about a band's tour we should know about, anything - hit us up anytime.
I really thank you for checking out and supporting RockerRags.com - a site created by those who love Rock 'N Roll for those who love Rock 'N Roll.
Lando

Any questions or suggestions – you can reach us directly at either:
help@rockerrags.com OR 323-782-8322.
Looking forward to hearing from you. And always – WEAR IT LOUD!
The characters you copied from the image are incorrect. Please try again.